Good morning. Almost everything about adulthood stinks, but it has one important benefit: nobody can ever make you take another exam. Who among us looks back fondly on turning over a sheaf of paper to find out which particular gaps in your knowledge are about to be ruthlessly exposed? And who doesn't feel a shiver of sympathy for the children going through the same thing today – and gratitude that at least this time, it isn't you?
Year 6 pupils in England, who sat their key stage 2 tests (widely known as Sats, or standardised assessment tests) last week, might be justified in feeling particularly hard done by: they face far more onerous assessment than their counterparts across the rest of the UK, and can look to 10 and 11-year-olds in comparable systems from Canada to New Zealand for proof that another approach is possible.
In the aftermath of the coronavirus crisis, and after the alarm was raised over a particularly brutal English test last week that was said to have left some pupils in tears, those worries look particularly salient. Today's newsletter, with the Guardian's education correspondent Sally Weale, is about the long-running fight over Sats, and why so many teachers and parents are calling for an overhaul.
You may now look at the headlines. You have five minutes to complete this newsletter. Do not use a calculator.
Five big stories
In depth: 'There is real worry that disadvantaged students will find it very difficult to catch up'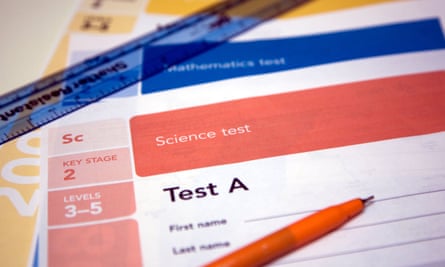 Dismay about the difficulty of Sats is now as predictable a part of the academic calendar as a terrible school play – but it feels especially acute this year.
Last year's results revealed the gap between the scores obtained by disadvantaged children and others had grown since before the pandemic, when they were last taken, leaving the biggest difference between the two in a decade. And after the Department for Education responded to anger over an English test last week, reported to be so hard that some teachers struggled to understand the questions, by saying that it was "designed to be challenging", schools minister Nick Gibb promised to review the paper in question.
"They do have to test a range of ability to make sure we can show what proportion of children are exceeding the standards and so on," he said. "But we don't want these tests to be too hard for children. That's not the purpose."
So what is the purpose? "The government would say that up until the pandemic, taking a rigorous approach has in general narrowed the gap between disadvantaged children and their wealthier peers," Sally Weale said. "But that approach has stalled. And there is real worry that they will find it very difficult to catch up."
---
How are Sats supposed to work?
The key stage 2 assessments are billed as a way to measure how well schools are doing, and to identify any problem areas for pupils ahead of their secondary education.
In theory, they're not meant to be a source of stress for the children who take them. "The assessments only include questions on things that children should already have been taught as part of the national curriculum," the government's education hub says. "Children shouldn't be made to feel any unnecessary pressure when it comes to the KS2 assessments."
The exams are calibrated to be a reliable guide to what children have learned, with questions going through three cycles of reviews by teachers and experts before being trialled on 1,000 pupils each time. That process is supposed to avoid any disadvantage for particular groups of pupils and to make sure they produce a range of marks that accurately measures a full range of abilities – since there's little point in a test that leaves the bottom quartile all scoring zero, or the top one all getting full marks.
"They're supposed to provide a picture of a school's performance that helps parents know what kind of school they're choosing, and to see how individual kids are doing," Sally said. "The idea is that it's just based on what they've been doing all year. It's meant to be fairly pain-free." UCL research in 2021 supported that argument: it found little difference in the well-being of children who had taken them and those who had not.
Those who defend the existing system might point to news yesterday that pupils in England have risen to fourth place in the world rankings of literacy among nine- and 10-year-olds – beating the US and every other country in Europe.
While that measure is taken before the Sats, Prof Alan Smithers, of the University of Buckingham, argued: "Although there are sometimes cries of pain from parents and teachers about the Sats test, there's no doubt that they set clear objectives for primary schools, and that is reflected in our position on the international scene."
---
What do critics say?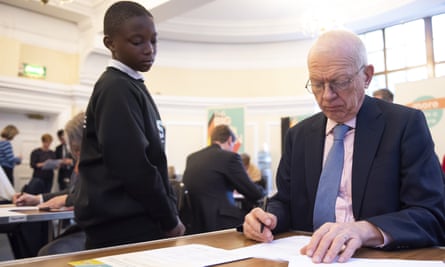 The argument against Sats is not, typically, that there is no need for assessment of children's progress: it is that high-stakes external tests that matter so much to schools are bound to create perverse "teach to the test" incentives that drive out what many parents value most about education, and consign children to an "exam factory" at too early an age.
They also say that quite often, as in the recent English test, they're simply too hard. One measure of that: when a group of MPs and peers (pictured above) took a sample test in maths and English last December, they scored lower than the average results achieved by 10-year-olds. (You may think that you'd quite like more than 44% of MPs to be up to year 6 maths, but the point still stands.)
"Even if the department says that they aren't meant to be this way, you hear many stories about kids having revision at lunchtime, or getting homework during half term, or being sick from the stress, and so on," Sally said. "The news of this recent test will have added to that argument. It feels like a judgement to parents and pupils, and the argument is that it drives a lot of the joy out of a period in education which is supposed to be about enriching children's lives and making them love education."
The National Education Union says that the UCL research fails to take into account how Sats have changed in recent years. Ninety-five percent of headteachers say too much time is spent preparing for the test, and 90% of teachers are unsatisfied with the system.
You might see a vested interest in teachers rejecting a system that demands a lot of them. But parents tend to agree: 95% said Sats had a negative effect on their child's well-being last year. Nor do parents typically use them to choose a school: Ofsted reports and local reputation are considered much more important, and 85% say they don't use Sats at all.
As for pupils: almost half of year 6 children said they spent most of the year doing practice papers, 60% said they were worried about the exams last year, and one in 10 said they were having trouble sleeping as a result. (You can see all these figures and others in this briefing (pdf) by the campaign group More Than a Score.)
---
What would an alternative look like?
There are plenty of suggestions from critics – but most centre on replacing Sats with something new. Under Jeremy Corbyn, Labour promised to abolish them altogether, though did not say what the alternative would be; the party doesn't currently have a stated position on the issue.
The EDSK thinktank argues that more frequent, shorter assessments run online that automatically give pupils questions adjusting to their performance would make the process less burdensome for schools and pupils alike and provide a fairer measure of progress.
The British Educational Research Association suggests removing the tests – and league tables – and instead using a test of a sample of pupils alongside questionnaires for schools, parents and pupils for a broader measure of success.
Any alternative would be more popular with teachers and parents. Nonetheless, the government does not appear likely to abandon the current system, which it sees as one of the tools it will use to get 90% of pupils to expected standards in reading, writing and maths by 2030. That looks a tall order: last year, that target was hit by just 1% of schools.
What else we've been reading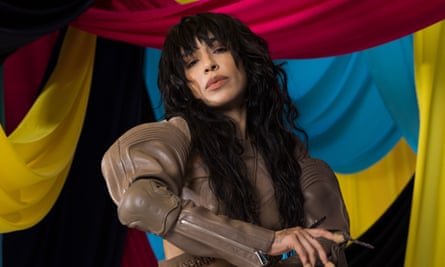 Sport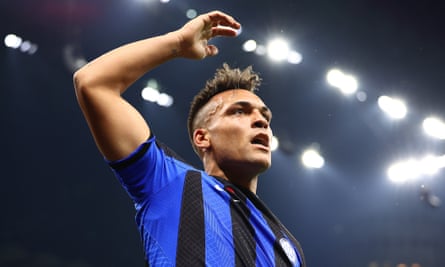 Champions League | Inter reached the final of the competition after a 74th minute goal from Lautaro Martínez (above) secured a 1-0 win against their bitter rivals Milan on the night, and a 3-0 aggregate victory. While Inter will be underdogs against either Manchester City or Real Madrid in the final, Jonathan Liew wrote: "This is a club that has always done its best work in the shadow of doubt, that is most dangerous at the moment when you dare to write it off."
Cricket | Jofra Archer will miss a third successive summer, and a second successive Ashes series, after scans revealed a recurrence of a stress fracture to his right elbow. Rob Key, the ECB's managing director for men's cricket, said the fast bowler was "pretty distraught" at the news.
Championship | Luton fans celebrated on the pitch after a 2-0 win over Sunderland in the playoff semi-final second leg secured them a place in the final. Goals from Gabriel Osho and Tom Lockyer turned the tables on Sunderland, who had won 2-1 at home in the first leg. "We had to mix it up and be horrible and dirty and that's how we won the game," Lockyer said.
The front pages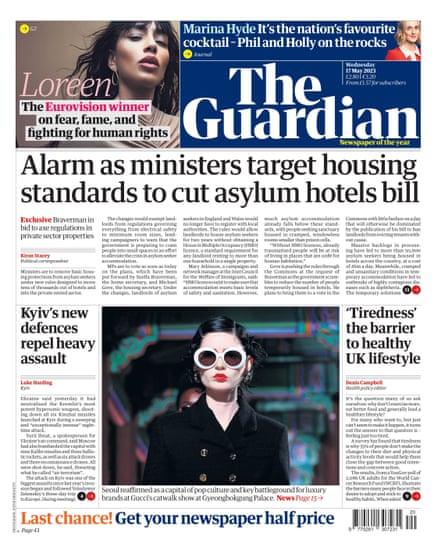 Our Guardian print edition splashes this morning with "Alarm as ministers target housing standards to cut asylum hotels bill". Housing issues of a different kind lead the Times' Wednesday edition – "Starmer: I'll allow more homes on green belt". "PM: You must let us deport illegal migrants" – that's t message from Rishi Sunak to European judges, says the Daily Express. "Can't afford a sandwich? Hard cheese" – the Daily Mirror calls out "more right-wing cruelty" as, it says, former MP Ann Widdecombe declares "no one has a right to cheap food".
The Daily Telegraph has "Free speech is at risk in trans row, Oxford dons tell students". "We're NOT guns for hire Harry" – that's the Sun's headline for its story about the court case between the prince and the Met over payment for his security. "Working from home fuels UK's sick note crisis" says the Daily Mail, while the i has "Bird flu spreads to humans in the UK". The top story in the Financial Times is "ChatGPT chief sees AI manipulation of US elections as 'significant' concern".
Today in Focus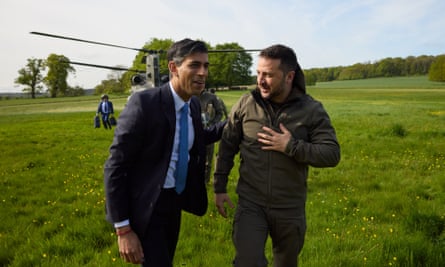 Has Ukraine's spring offensive begun?
Ukrainian officials claim their forces have retaken land around the eastern city of Bakhmut and shot down Russian missiles targeting Kyiv. Luke Harding reports on the state of the war
Cartoon of the day | Ben Jennings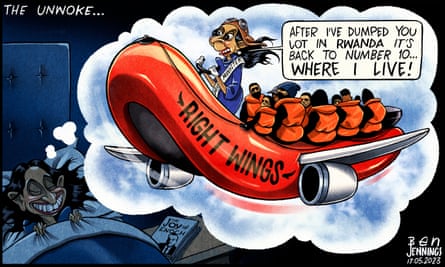 The Upside
A bit of good news to remind you that the world's not all bad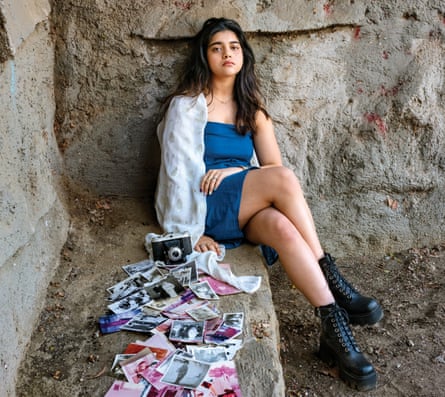 This picture essay collects images from a new exhibition at the Los Angeles County Museum of Art of works by female artists who have highlighted the evolving political and social landscapes of countries with large Muslim populations. One photograph (above) features the actor Iman Vellani, known for her television role as comic-book character Kamala Khan, AKA Ms Marvel, in a series that focuses on girls and women in the US and Lebanon. Another features the photographer's daughters, inspired by their evolution from girls to adults. The two girls, Darine and Dania, gaze confidently at the camera, their personalities emerging through their body language and what they are wearing.
Others highlight the plight of a transgender woman in Iran, the dispossession of Palestinian women who live in a perpetual state of occupation, and a moment of togetherness in Nigeria as girls gather around a circle of candles on their classroom floor to exchange stories while Boko Haram unleashed attacks on the country. The exhibition centres the experiences of marginalised women and celebrates the achievements of female photographers who have been able to capture their stories.
Sign up here for a weekly roundup of The Upside, sent to you every Sunday
Bored at work?
And finally, the Guardian's puzzles are here to keep you entertained throughout the day – with plenty more on the Guardian's Puzzles app for iOS and Android. Until tomorrow.
Click Here
To find out about the courses we have on offer:
Click Here
Join the Course:
Click Here