Daniel is 10. He likes football, Fifa, the gaming website Poki, coding and basketball. Last year, he asked his dad if he had ever heard of Andrew Tate. "I hadn't," admits his father, Nick, who went away, did some research and was horrified at what he found.
Today, it seems as if virtually every parent in Britain has heard of the ex-kickboxer, social media influencer and self-professed misogynist, whose videos have been watched millions of times and whose recent arrest in Romania on suspicion of human trafficking, rape and forming an organised crime group to exploit women has kept him in the headlines.
Children are not only mainlining Tate's toxic social media content, which has resulted in him being banned from most major platforms; they are also tracking his progress through the Romanian criminal justice system, where he and his brother, Tristan, have been remanded in custody until 27 February while investigations continue. An appeal against their detention was rejected yesterday. They deny all the allegations.
Among those following developments in Bucharest is 14-year-old Isaac. "I want to know what happens," he says, with some glee. Isaac seems to be an average teenager. He plays a lot of football and goes to the gym. He likes Fortnite and goes fishing when he gets the chance. He thinks Tate is an idiot, but he says there are other boys at his inner-city state school who idolise him.
"I probably first heard of him about six months ago and really quickly he was just everywhere online. You couldn't avoid him," says Isaac. "When I first saw him, I was quite interested. Now, I think he's absolutely stupid. When we're talking about him, mostly we make fun of him. Out of my friends, I only know about two people who support him. They like the fact that he is rich and strong."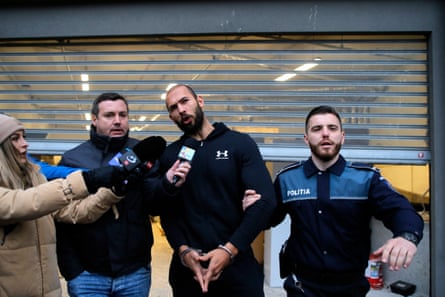 Tate, 36, a US-British citizen who came to public attention when he was thrown off the reality show Big Brother in 2016, likes to pose with a cigar in front of expensive cars and private jets, and often dispenses dubious advice to young men (he once claimed reading books is "for people with slow brains"). But it is his extreme misogyny that has gained him notoriety, prompting fears that boys and young men are being radicalised by his views. He has said women are partly responsible for being raped and that they "belong" to men. In one video, in which he imagines a woman accusing him of cheating, he is shown saying: "It's bang out the machete, boom in her face and grip her by the neck. Shut up, bitch."
Campaigners fear Tate's views are even seeping into the minds of primary schoolchildren. Last month, the Labour MP Alex Davies-Jones spoke in parliament about Tate's "toxic" influence on schoolboys and criticised Rishi Sunak for being "too slow to recognise the damage this is causing". As a result, she was "bombarded" with rape and death threats. But wall-to-wall media coverage in the past few weeks means teachers and parents are increasingly aware of Tate's poisonous messaging and the threat it poses. Secondary schools across the country have mobilised to arrange additional training for staff, workshops for pupils and awareness-raising events for parents.
So far, Daniel's inner-city primary school has not raised the issue, with either parents or children. "It's worrying," says Nick. "I think the school should address it. They should talk about it in class. Children are getting hold of stuff earlier than parents think they are."
Many secondary school teachers feel they were slow to pick up on Tate's influence. Last year, they began to notice pupils using phrases they didn't recognise: "What colour is your Bugatti?" (a way of bragging about status); "Make me a sandwich" (to belittle women and girls).
"Students knew more than teachers in those early stages," says Lisa McCall, the deputy headteacher at Wales high school in Rotherham. "We were in the dark." Now that teachers are catching up, they are worried about the corrosive influence of the extreme misogyny espoused by Tate. One says she is concerned about some of the behaviour between boys and their girlfriends in school: one boy was seen pinning his girlfriend to the wall by her shoulder; another was seen trying to confiscate his girlfriend's phone. "There seems to be an increased need for boys to control girls," she says. "There's an expectation from boys that girls are going to do what they tell them to do."
Sean Maher, the headteacher at Richard Challoner, a Catholic boys' school in New Malden, Surrey, with a co-educational sixth form, describes how he has seen Tate's influence spread through his school. "It wasn't really coming up last year," he says, adding that isolated incidents were dealt with as they arose. "But now it's got to a point, probably due to the arrests, that he is mainstream. In terms of student knowledge, it's a common discussion point."
A lot of it is covert – pupils using a hand signal associated with Tate, for example – but the school has decided to tackle it head on, talking to pupils about the impact of "toxic masculinity" and highlighting positive role models. Maher is planning to send a letter to parents with advice on how to talk to their children about Tate. "I don't think schools can tackle this on their own. Parents play a very important role."
In other schools, it has become a behavioural issue, with pupils mimicking Tate and sometimes openly expressing support for him. Teaching staff are signing up in growing numbers for training sessions from organisations such as Men at Work. Its founder, Michael Conroy, offers advice on how to build constructive dialogues with boys and young men.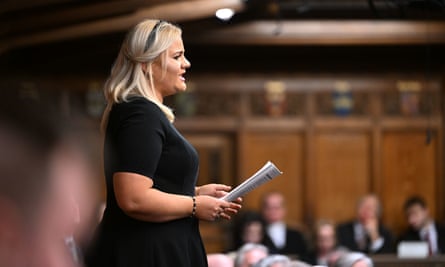 I listen in on one Men at Work training session, attended by 20-plus teachers from state and private schools. Many of those attending are also parents, worried about the impact of influencers such as Tate on their sons. "We see misogyny every day in my school, with everything from boys ignoring instructions in corridors from female staff to serious sexual assaults," says one teacher. "We need to do something." Another describes how boys entertain themselves by seeing how many times they can slip the phrase "Make me a sandwich" into her lesson.
"They feel a shared confidence, as they are all accessing the same content online," says one teacher. Another adds: "Our boys have an emotional connection to the influencers they are accessing. They will use any argument to defend both their views and their behaviour."
Tate's particularly nasty form of misogyny has not appeared out of thin air. As Conroy makes plain, misogyny is as old as the hills. Almost three years ago, Soma Sara founded the Everyone's Invited initiative, which began as a website for survivors to share anonymously their experiences of rape culture and has lifted the lid on the scale of sexual violence and misogyny in schools. Since then, there have been several high-profile killings of women, including Sarah Everard, while official statistics published last month showed a large rise in the number of young men referred to the government's Prevent scheme in relation to misogynistic "incel" ideology.
"We need to focus on the issues and not the individual," says Conroy, who spent 16 years working in secondary schools before setting up Men at Work. "It's not about Andrew Tate; it's about misogyny. These issues have been there for ever." He is, however, concerned about the amount of pornography to which children and young people are now exposed. Recent research revealed that one in 10 children in England have seen pornography by the age of nine, and one in four by 11.
"Porn is a huge accelerant to this," says Conroy, who believes Tate should be a wake-up call for parents to "get with the programme" and learn what their children are exposed to online. "It's only by the rigorous actions of some parents and carers that any child has any form of filter."
As well as training for teachers, schools are also bringing in teams from organisations such as Beyond Equality, School of Sexuality Education, Hope Not Hate, Everyone's Invited and Bold Voices to work with pupils on gender equality, gender-based violence and misogyny.
Natasha Eeles, the founder of Bold Voices, says her team has worked with more than 50 schools since June 2022, when they started hearing Tate's name mentioned by young people. "Now, we can't go into a school without hearing his name in every workshop. Since the beginning of January, we have seen an unprecedented rise in inquiries, with concerned staff getting in touch to ask for support on Tate specifically.
"None of our talks or workshops focus exclusively on Tate, as we try to support young people, staff and parents to understand the roots of gender inequality and gender-based violence and see Tate as one small part of that wider issue."
The messenger can be as important as the message, though, says one senior staff member in a London secondary school. Their school has invited a number of external groups to give talks on misogyny and related issues, but worries that they are often presented by "middle-class white women", who might not make an impression on the school's diverse cohort of boys. The school is considering training a young, male teacher as an alternative.
Jessica Ringrose, a professor of the sociology of gender and education at University College London's Institute of Education, has worked in schools on issues of masculinity, gender inequality and sexual violence. She focuses on 13- to 15-year-olds who are particularly vulnerable to gendered misinformation online. From her experience, 15% to 20% of the boys taking part in her workshops are "somehow buying into this ideology".
"It's not surprising that these kinds of norms are continuing to filter through when they're being championed by somebody like Tate, who embodies these kind of superdominant, aggressive – 'Here's my Bugatti and my 30 cars and my knife collection' – tough, virile masculinities."
Ringrose says the government should take a stronger line: "Where is the Department for Education [DfE] response on this? What is it actually doing to support schools?" She says she was commissioned by the DfE to do a report on harmful sexual behaviour in schools and how to address it, which she and her team handed over last March, but it has not been published.
Her paper argued for a preventive, whole-school approach, raising awareness about and challenging harmful sexual cultures, rather than responding once harmful behaviour has already taken place, which is what often happens now. "You can't just teach one RHSE [relationships, health and sex education] lesson on this; you need to have a whole-school ethos. We need to make it a priority."
In response, the government said it had made RSHE a compulsory part of the curriculum and had published statutory guidance stating that schools should be alive to issues such as everyday sexism, misogyny and gender stereotypes. "We will be publishing further non-statutory guidance later this year to provide practical advice on how to create a whole-school culture of respectful relationships, and how to teach about sexual harassment, sexual violence and violence against women and girls."
Rather than focusing on Tate and his ilk, Ringrose recommends an affirmative approach. "It's about calling boys and men allies and trying to find relatable ways to understand equity and want to fight injustice. There are really great programmes trying to call boys and men into the conversation, raise their awareness of gender inequality and gender stereotypes. They're doing good work."
Some names have been changed
How to talk to your children about toxic masculinity
A guide by Bold Voices
1 Keep the discussion casual and friendly. Try striking up the conversation in a space without direct eye contact, such as when driving, walking or watching TV, to avoid feelings of confrontation.
2 Be proactive, not reactive. Bringing up the conversation organically, rather than in reaction to a comment or event, will set the tone as objective and minimise defensiveness.
3 Little and often makes it less intense and less awkward.
4 Discuss healthy role models and narratives around masculinity.
5 There are no right or wrong narratives. Inspire agency by offering information and letting them think about it critically.
6 Don't panic or react with shock. It might be startling or enraging to hear certain views coming from teenagers, but reacting with shock or anger can shut down a conversation.
7 Don't ban social media. This misses the point. Social media is a vehicle, not a root cause.
Click Here
To find out about the courses we have on offer:
Click Here
Join the Course:
Click Here