As teachers prepare to join the latest wave of industrial action battering Rishi Sunak's government this week, there is little sign of either side backing down.
Teachers in England and Wales will strike on Wednesday, alongside university staff, train drivers and 100,000 civil servants across scores of separate workplaces.
Nurses and ambulance workers will follow next week in an unprecedented joint stoppage, raising the stakes in their long-running dispute yet higher.
"People are adding it to a long list of 'things wrong with the country'," says James Johnson, of the pollsters JL Partners.
Sunak's strategy appears to be to hold firm, perhaps in the hope that public support falls away, helping to squeeze striking workers into settling for minor concessions.
Ministers hope they can confine these to the coming year's pay round, after Jeremy Hunt's March budget. No 10 has suggested any pay rise above about 3.5% would have to come with improvements to "productivity and efficiency".
But union leaders have continued to insist their members need more money now, to help them cope with double-digit inflation and start to reverse years of real-terms cuts.
"Good leaders are good listeners, something that seems to be beyond this government," says Gary Smith, general secretary of the GMB. "Ambulance workers and NHS staff have been telling ministers that our health service is in crisis because it can't recruit and retain the people it needs. The starting point is to talk pay now."
One Labour frontbencher suggested the government might be hoping the teachers' strikes, which kicked off in England and Wales this week and have been running in Scotland for some time, have enough impact on the public's lives to undermine any sympathy they might have.
"They're obviously holding out for the teachers, because that tends to be the least popular of any strike. I think they are absolutely counting on that as being the tipping point," they said, suggesting this was a misreading of the public mood.
Recent polling by Ipsos put support for teachers' strikes at 41%, with 33% opposed. Public support for the nurses' strikes waned significantly, from 59% in November to 40% this month, as the dispute drags on. But that still outweighed the 30% of those surveyed who were against.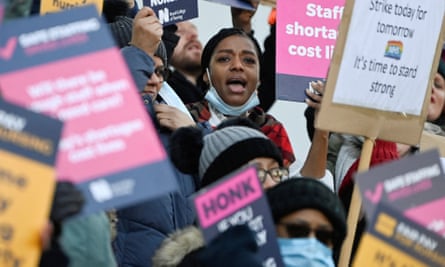 And, crucially for any hopes ministers may have of winning the PR battle, when asked whom they blamed for the strikes continuing, 57% said the government.
Luke Tryl, of the thinktank More in Common, which carries out focus groups (including for the Guardian) says: "Part of the reason the government strategy of 'stick it to the unions' isn't working, is that people's approval of the government is so low, that their general inclination is not to take the government's side on the issue."
Union insiders believe it has also helped their cause that many of the current crop of general secretaries are some distance from the stereotype of the "union baron" – not least because they are women.
Christina McAnea of Unison, Pat Cullen of the Royal College of Nursing and Sharon Graham of Unite have repeatedly stressed the parlous state of public services, as well as the demands of their cash-strapped, burnt-out members.
The University and College Union's Jo Grady is a 38-year-old academic, whose specialist subject is trade unions and pension disputes. As a collective, they hardly give the impression of being shadowy union fat cats.
"We all know that the last 13 years have taken the NHS to breaking point," Graham says. '"We have over 130,000 unfilled vacancies and more people are leaving every day. So the strikes have huge public support because the public understands that these workers who came out in the pandemic are fighting not only for better pay but also to save the NHS from this act of national self-harm being perpetuated by the government."
Some cabinet ministers have appeared more hardline than others in recent weeks.
The transport secretary, Mark Harper, has allowed the Rail Delivery Group to make a fresh offer in the long-running rail dispute, which is currently being considered by the RMT.
That marked a sharp contrast to his predecessor the keenly political Grant Shapps, who declined to meet with rail unions.
Privacy Notice: Newsletters may contain info about charities, online ads, and content funded by outside parties. For more information see our Privacy Policy. We use Google reCaptcha to protect our website and the Google Privacy Policy and Terms of Service apply.
The health secretary, Steve Barclay, has appeared to flip-flop between an amenable "my door is open" approach, to a much more accusatory tone, warning that striking ambulance workers had "made a conscious choice to inflict harm on patients", for example. Reports that he was preparing to offer a one-off hardship payment to unblock the talks earlier this month were quickly denied.
Unison's head of health, Sara Gorton, who has been involved in the negotiations, says: "It looked like the tide had begun to turn with some ministers finally prepared to talk about pay. But now it feels as if the government's digging in, and strikes are set to escalate."
At the same time, the government is pressing ahead with its minimum service levels bill. Aimed at blunting future strikes, the unions see the controversial legislation as a declaration of war. Keir Starmer has said a Labour government would repeal it.
Some Conservative MPs, including the former party chair Jake Berry, have dared to suggest the £1,400 across-the-board offer for nursing staff is "too low" and should be increased.
But Hunt has stuck carefully to the line that he cannot revisit this year's pay deals, for fear of unleashing a fresh round of inflation.
A Treasury source says: "We've already been clear that we're not reopening this year's pay process. We're going to keep saying that, because it's not changing.
"We don't want to do anything that risks embedding high prices into our economy for any longer than is necessary."
Kate Bell, the TUC's deputy general secretary, argues that the Treasury's stance makes little economic sense.
"Of course we've had a high inflationary environment, but I think everyone is pretty aware that it's come from external factors, not internal pay pressure," she says. "We're now facing a very real threat of a recession, and government's key message seems to be, 'We'd like to hold down the pay of public sector workers.'"
She adds that private sector pay growth has been running at more than twice the rate of the public sector (7.1% in the latest official data, against 3.3% for public sector workers). A number of industrial disputes in the private sector – between the Communication Workers Union and call centre workers at BT, for example – have been settled with additional pay increases.
Sunak, whose leadership has been in the spotlight over sleaze, has largely chosen to stay out of the public debate over industrial action, aside from repeatedly describing the government's approach as "reasonable".
Graham says: "If any private sector strike was at the stage of the NHS dispute the chief executive would be in the room negotiating. Rishi Sunak is effectively the government's chief executive and should be leading the negotiations. Instead he is posted missing.
"I have never seen an abdication of leadership like this in all my days."
With more strike days planned across the NHS – including a simultaneous stoppage by nurses and ambulance workers next week – it seems unlikely Sunak will be able to remain above the fray for much longer.