In a lecture room at Ireland's most elite university, a woman in a hoodie and jeans, her hair in a messy bun, was sorting out some chairs. A student came in and told her that she couldn't clean in there because a class was about to start. "I know," the woman told her. "I'm teaching it." It is one of my favourite moments in Dr Katriona O'Sullivan's new memoir, not just for the delicious awkwardness, but because, despite O'Sullivan's path from virtually unimaginable poverty and trauma to a top-level education, it exposes the truth about whom we believe those institutions are really for.
What was funny, but also difficult, says O'Sullivan now, "was that I was struggling at that time with: 'Who am I?'" She had completed her PhD at Trinity College, Dublin, where she was lecturing in psychology and working in its access programme to encourage people back into education. "There's a uniform of the middle classes," she says, and she was wrestling with it (a colleague had even suggested she dress more like them). "I just wanted to be myself. I want to wear my hoops, and my tan, and I think it's important that we see people who are diverse." She smiles. "So I was being brave, going: 'I'm going to be me.'" The student read that look and saw a cleaner. "That's the vision they have of a person from the underclass, or a working-class background. I got up and taught my class, and I was amazing, because I'm a good teacher."
We meet in a hotel bar in Dublin. O'Sullivan, 46, is warm and direct, her accent somewhere between her Midlands upbringing and her Irish home. Her book, Poor, is one of the best I have read about the complexities of poverty and drug addiction. Looking back, you can see how all the elements that enabled O'Sullivan to get out of poverty clicked into place, like the combinations on a lock being turned to free her: teachers who had time to help her, youth workers who had money to support troubled teenagers, education grants, an access programme that encouraged her, and state-funded childcare and counselling. All things that, she points out, either no longer exist or are not sufficiently funded. She puts her motivation way down the list, making the point that it's a myth that if you only work hard enough, you can achieve anything, because the system works against you – although I think she underestimates her awesome resilience and will.
The individual, she says, "is small in the decisions of their life, and we don't like that because it suggests we're powerless. But choice is a myth that's perpetuated by the middle classes – only a few people really can choose."
It is almost an accident that her life took this trajectory – it has not been the same for her siblings – and even though her climb brought her to a place that is preferable to where she was, it comes with sacrifices. It can be lonely, she says. "There's loss that goes with not fitting any more with your family and friends, and not being able to go back and be at ease in whatever shit you were living in."
At 15, O'Sullivan had left school and was pregnant and homeless; later, she struggled with addiction. Writing the book, she says, "has probably been the best thing I've ever done for myself. We live in a world that says: 'You can be, you can do, you can achieve.' I knew that wasn't true, but somewhere, deep down, there was a part of me that blamed myself for failing." When she was writing, her editor told her she was being far too hard on herself. "It really challenged me to think about how women end up the way I did."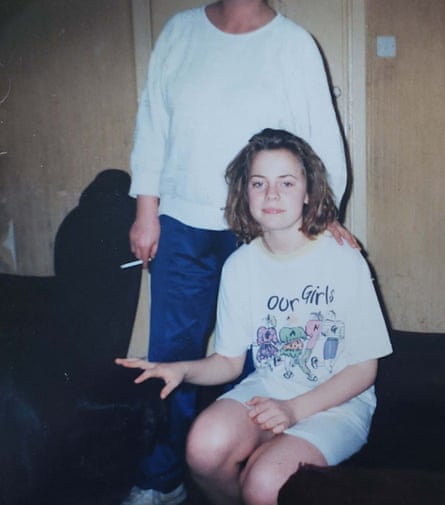 O'Sullivan grew up in Hillfields, a deprived part of Coventry in the West Midlands, the second youngest of five children. Their parents, Tony and Tilly, were heroin addicts. Home could be a frightening place, where drugs were dealt, and "friends" of their parents were often sprawled on the floor. When she was five or six, she discovered her father, who had overdosed, unconscious, a syringe still stuck in his flesh. He was jailed for selling drugs not long afterwards and she or one of her siblings would be used to smuggle drugs into the prison. While he was inside, one of the men who hung around the family raped her. "Yeah, well, he raped me, too," said her mother, when a traumatised seven-year-old O'Sullivan told her.
Amid all this chaos, neglect and abuse, school was an escape, and often the only place where she ate. She would like to see universal free school meals now, and recognition of "the fundamental need for kids who are in poverty to be fed in order to engage in education". But it goes further. "We underestimate the impact of teachers, and we don't pay enough attention to ensuring they can provide care. You have lack of funding for teaching, lack of time, lack of resources. In the UK, 22% of children are living below the poverty line, which means that there's a lot of kids, in a lot of schools, who are probably feeling like I did." In fact, Child Poverty Action Group says 29% of children were living in poverty in the UK in 2021-22.
One of O'Sullivan's teachers, Ms Arkinson, showed her not only love, but practical support. O'Sullivan often wet the bed and would come to school smelling of urine: she didn't have soap, a towel or even a toothbrush at home. Arkinson taught her how to wash every morning in the school bathrooms and kept a stack of fresh pants for her. "She changed my life," says O'Sullivan, and her eyes well up. "What she did for me lived on for ever. In a child who was really empty, she made me feel OK in myself and that was life-changing."
At secondary school, it was another teacher, Mr Pickering, who reached her; he saw in O'Sullivan someone who was bright and loved reading (he brought her Jane Austen and John Steinbeck to read). "I really believe that when I was ready, and the supports were in place, the things that I'd experienced in secondary school from him, and in primary school, were part of the reason why I was able to participate in higher education in the way that I did."
But there were also the people – children, and adults, too – who were repelled by poverty. "Poverty has layers. We were probably the most extreme – no food, not washed, nits. Kids don't want to play with you, so it's horrible because not only are you suffering at home, I was also going to school and being on the outside. Sometimes, teachers would treat me that way as well, or expect me to perform in a way that was just beyond me because of what was going on at home."
There were glimpses of other lives. At three, she remembers her friend next door being given a hug by her mum, and wondering why her own mother didn't hug her like that. For a short time, she and her siblings were taken into care, where she "got food, and washed". She always believed she deserved more, but over the years, she says, "hope and belief get eroded". The effort of survival was exhausting. "As a kid, I was hopeful, vivacious. All kids are – some are quiet, some are loud, but we all have potential. And then as a teenager, with all the shit constantly, in the end, you just lean into it." There were people, she says, "trying to keep me hopeful, but it's very hard to battle against a lifetime of poverty and belief within a family. Eventually, it's like your light goes out."
As a teenager, she was arrested for fighting and stealing, and was involved in drugs. When she was 15, she got pregnant; the moment she found out, "just knowing that it's over – any bit of hope, any dreams". She wanted to finish school, but felt she couldn't go back, that all the teachers who expected her to fail would be proved right. After she had her son, Pickering turned up at her door and convinced her to sit at least one GCSE, English.
Her parents, although not angry about the pregnancy, told her she could not continue to live in the house with a baby. So, for several months she squatted in an abandoned flat, which became a teenage hangout for drinking and drugs, until social services found out and she was moved to a mother-and-baby hostel, then later to a council flat.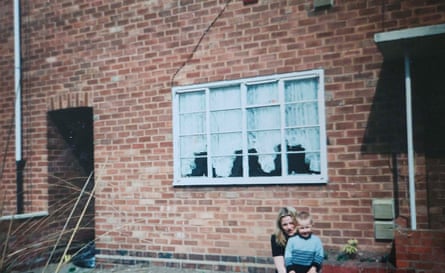 The next couple of years were difficult, dealing not only with the trauma of her own childhood, but also with a baby. We normalise the struggle of life with a newborn for older, middle-class mothers, she points out, "but young mothers are punished for the same thing". To her horror, O'Sullivan found the pattern of her childhood repeating itself: it was easy to forget the trauma of her life if she was out at pubs and clubs, drinking and taking drugs; desperate for love, she confused it with sex.
Although she wouldn't necessarily have classed herself as an addict – "I sometimes think: 'Was it bad enough for me to own the same space that my parents did?'" – she could see the way she was going, and she wanted to stop. "I didn't want that for my son, and that was horrific. I remember waking up to the fact, living in Birmingham in this council house, no carpet on the floor. I used to buy electric and gas keys on a Monday, and by Friday, it was gone, so it was cold. I remember thinking: 'I am her, I'm my mam, and this beautiful boy deserves better."
Her father was sober by this point. He had gone to Ireland with her mother after skipping bail following another arrest, and he arrived one day to take her son back there with him. "He rescued me. This man, who in some ways was responsible, actually rescued us."
Not long afterwards, O'Sullivan moved to Ireland, too, to be with her son, believing that if she could escape her surroundings, she could escape her trauma. It didn't work and eventually she went to a recovery centre. It was the start of getting better, though it would take some years. She was, she writes, "convinced of my 'place' in society and I believed that my place was with the underclass". She couldn't see further than surviving on benefits, cleaning toilets at a train station for extra money, and finding a man to live with; an occasional holiday might be nice. But one day, O'Sullivan bumped into a woman she knew – also a single mother, who had grown up in poverty – who was studying law at Trinity through an access programme. O'Sullivan marched straight over to the university and asked how to apply.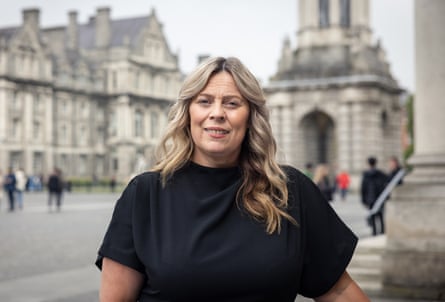 If getting into Trinity College sounds like a fairytale ending, it was, but it was also difficult. O'Sullivan lacked confidence, and nearly dropped out the week before her exams. Her parents – although her father was sober, her mother was still drinking heavily – relied on her, and she was a lone parent to her son. But she did it, and after passing the access course, she did a degree in psychology and got a first, and a PhD, focusing on addiction.
"It's like I lived two lives," she says. "A life up to the point where my mind was opened by education. Prior to that, I had no idea that you could be anything different." She is furious at the rhetoric around poverty – during the past decade especially – that if someone is poor, it is their own moral failing, and if only they worked harder, they could drag themselves out of it. "What I've done is miraculous, and rare, because we don't have investment. If I was in that situation now, I wouldn't be here."
It is society that loses, she points out. "We're missing talent, vibrancy and creativity. Because I've been empowered, I have been able to change my life, my children's lives. I'm not costly any more to the state. I'm not doing all of the things that happen when you live in poverty. The people who are making decisions are clearly very educated and yet they don't seem to have the long-term lens on what investing in reducing poverty can do."
Addiction, too, is seen as a personal failing rather than a complex issue. "There's nobody I know who is addicted to drugs who planned that," says O'Sullivan. "Especially for women with addiction, we do not provide enough support and services. My mother was judged so harshly, more than my dad, for being an addict. We need to look at how we moralise around addiction, and poverty."
Her memoir has transformed how she feels about her mother in particular. She loved her parents, she says, and when they weren't addicted to drugs or alcohol, they could be wonderful. "I've been able to see her in a different light, and re-find her," says O'Sullivan. In viewing their painful lives as a whole – both had traumatic beginnings, and both are now dead – she found compassion for them. "My dad was sick, my mam was sick. They were mentally unwell. I'm more angry at the way the system treated us than with them." The healthcare workers who roughly handled her unconscious father or told her drug-addicted mother, who had just given birth on the bathroom floor, that she shouldn't be allowed to have children; the police who raided the house and treated the children not as victims, but as "vermin"; the social services who sent the children back home to be abused and neglected.
She knew, intellectually, that she wasn't responsible for her neglect, or the abuse, but the feeling of shame stayed with her. "As if it's something to do with me. As a kid, when you're not loved by your parents for whatever reason – and I do believe they loved me, they weren't able to show it – it becomes: 'It's because there's something wrong with me.'"
For the people who can't recover from that, it is no surprise that patterns repeat themselves. Even for O'Sullivan, who by any measure is a huge success – happily married with three children, an impressive research career, an expert on access to education, and one of the most remarkable people you will ever meet – that voice is still there, but quieter now. "There will always be a small part of me that just wants to be loved by my parents," she says, and she apologises for the tears that spring to her eyes. "I think we carry our childhood with us. That's the long-lasting residue from mine."
The book helped. She likes herself now. "I think I've always liked myself, though. What's really sad about growing up is that I can clearly remember being a young girl, alive to the world, inquisitive and bright, like all kids are but, unfortunately, I was born in this community where I wasn't given an opportunity to flourish." She feels now, nearly four decades on, closer to that girl, before the weight of neglect, predatory men, fear and low expectations crushed her. "Like, I'm alive again."
Poor is published by Penguin (£14.99). To support the Guardian and the Observer buy a copy at guardianbookshop.com. Delivery charges may apply.
Click Here
To find out about the courses we have on offer:
Click Here
Join the Course:
Click Here