A row has erupted in France after a rightwing politician insisted that a high school named after the Black US activist Angela Davis should change its name.
Valérie Pécresse, who ran for president last year for Nicolas Sarkozy's party, Les Républicains, scoring a humiliating 4.78%, is head of the greater Paris Île-de-France region. She told a committee this week that the university professor and former Black Panther's belief that racism was systemic did not apply to France and was dangerous and divisive for French schoolchildren.
The Lycée Angela Davis in Saint-Denis, north of Paris, was opened in 2017 and was named in agreement with the school administration and the local mayor as part of a French tradition of high schools taking the names of important figures who have contributed exceptional service to the nation or humanity.
Amid outrage from the left this week, Pécresse stopped short of calling for a regional council vote on the issue and instead submitted a request to the education ministry to consider whether the high school's name was legal.
France's education minister, Pap Ndiaye, a renowned historian and expert on US minority rights and the history of race relations on both sides of the Atlantic, has not yet commented on the row.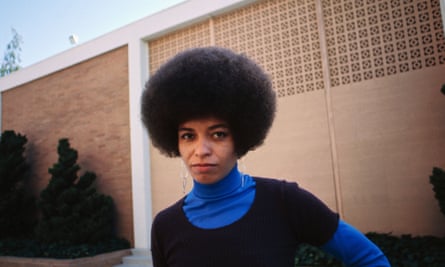 Pécresse told a committee meeting that although Davis's courageous work was about "the quest for dignity and equality", she was nonetheless "too radical and contentious" to have her name on a French school, which would upset the "calm" of the establishment.
"In Angela Davis's thinking there's the conviction that racism is systemic," she said. "This may be true in the US, it was certainly true in the US. But in France it's false and this idea, which could be supported by minority groups, is really an attack on French republican universalism."
She implied that the French republic's promise of "liberty, equality, fraternity," where everyone should be treated as equal and free, meant systemic racism was not an issue in France.
Pécresse criticised Davis for joining several other leading international academics in signing a joint opinion piece in 2021 in support of French academic work on colonialism and racism during a row over higher education.
A member of the regional council for Pécresse's party said the school should be renamed Lycée Rosa Parks, for the activist whose refusal to give up her bus seat ignited the US civil rights movement.
Privacy Notice: Newsletters may contain info about charities, online ads, and content funded by outside parties. For more information see our Privacy Policy. We use Google reCaptcha to protect our website and the Google Privacy Policy and Terms of Service apply.
after newsletter promotion
Three teaching unions at the Lycée Angela Davis said they were "extremely shocked" and would remain "mobilised" to protect the school's name.
Mathieu Hanotin, the socialist mayor of Saint-Denis, said it would be unacceptable to change the school's name.
Julie Garnier of the radical left party La France Insoumise, said calling for the removal of Davis's name was "colonialist, misogynist and anti-republican" and that the high school would always be known by that name.
Céline Malaisé, a Communist party regional councillor, accused Pécresse and her party of concocting a false "moral panic" to try to win voters from the far right.