The IPGCE program at the University of Derby is at the forefront of integrating technology into education, focusing on e-learning tools. This article delves into how the program effectively prepares educators to utilise digital platforms for enhanced teaching and learning experiences.
Strategies for Effective Utilization of E-Learning Platforms and Tools
The IPGCE program offers specialised training using various e-learning platforms such as Moodle, Blackboard, and Google Classroom. Educators are taught how to create interactive lessons, set up quizzes, and manage discussion forums. They are also trained in supplementary tools like video conferencing software and interactive whiteboards.
The Role of Learning Management Systems (LMS) in the IPGCE Program
Learning Management Systems (LMS) like Moodle and Canvas are pivotal in the IPGCE curriculum. Educators are trained to upload course materials, track student progress, and facilitate online assessments through these platforms. The LMS also serves as a hub for communication between educators and students, making providing timely feedback and announcements easier.
Preparing Educators to Create and Manage Digital Content
The program includes modules that focus on digital content creation. Educators are trained in using authoring tools to create interactive e-books, podcasts, and video lectures. They are also taught how to ensure digital content is accessible to all students, including those with disabilities.
The Significance of Interactive E-Learning Modules in Distance Education
Interactive e-learning modules are especially significant in the context of distance education, a format increasingly adopted by educational institutions. The IPGCE program trains educators to develop modules that engage students through interactive quizzes, real-time feedback, and gamified elements, enhancing the learning experience.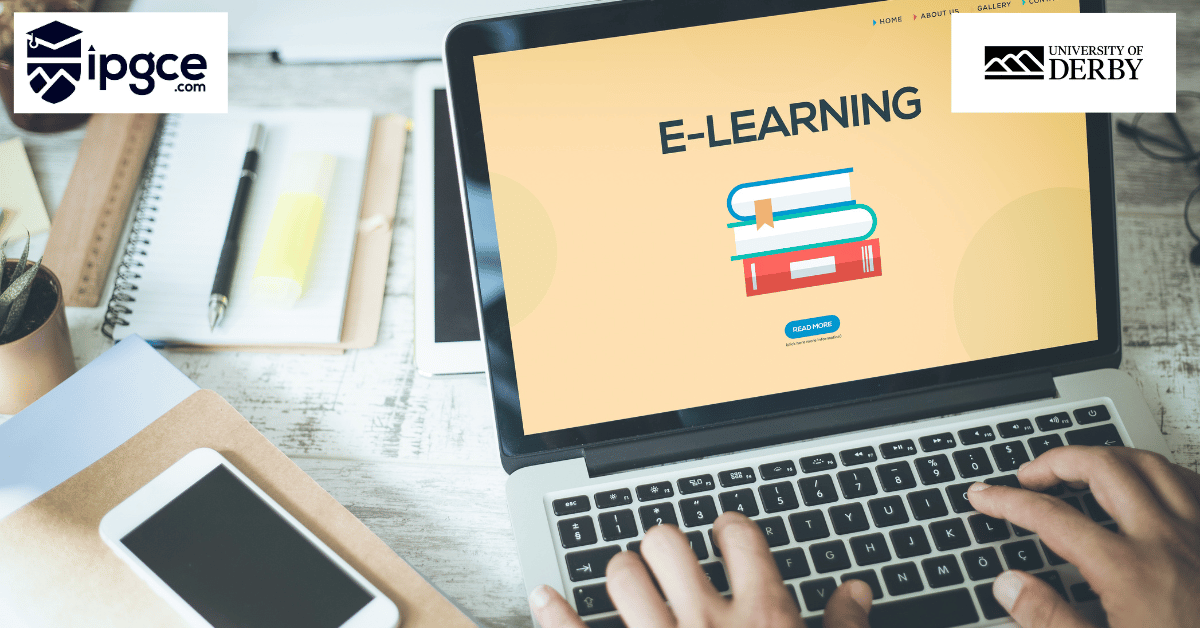 How the IPGCE Program Integrates E-Learning Tools into its Teaching Methods
The IPGCE program has a dedicated module on e-learning tools, where educators are trained to integrate these platforms seamlessly into their teaching methods. Whether flipping the classroom or implementing blended learning strategies, the program equips educators with the skills to adapt to various educational settings.
In summary, the IPGCE program at the University of Derby is committed to harnessing the power of e-learning tools to enhance educational outcomes. Through hands-on training and practical modules, educators are prepared to navigate the digital landscape of modern education effectively.
Need to find out more?
Click Here
To find out about the courses we have on offer:
Click Here
Join the Course:
Click Here