[tek_sectiontitle st_title="Derby IPGCE – Applying for the Course" st_title_tag="" st_subtitle_decoration="" st_separator_enable="separator_off" st_text_align="text-center" st_width="st_fullwidth"]
[tek_sectiontitle st_title="Derby IPGCE – Need to know what documents to prepare?" st_title_tag="" st_subtitle_decoration="" st_separator_enable="separator_off" st_text_align="text-center" st_width="st_fullwidth"]
[tek_sectiontitle st_title="We are here to help you get into the dream job you deserve" st_title_tag="" st_subtitle_decoration="" st_separator_enable="separator_off" st_text_align="text-left" st_width="st_fullwidth"]
The purpose of the Derby IPGCE is to give you the peace of mind you are in a secure position professionally. The Derby course will put you on the same level as a UK PGCE student when applying for a job.
An internationally-recognised online programme for teachers already involved in the international school sector. This will give you a global perspective of education, challenge your practice and boost your confidence.
Please follow the instructions carefully below and the templates that we have provided. If you require us to proofread your application documents or have anything, please send them to us via email or WeChat. As a result of the high volumes of people applying for the Derby IPGCE course currently, we suggest applicants apply two months before the closing date.
[tek_iconbox title="All Educators" title_size="small-title" box_content_type="simple_text" text_box="Are encouraged to apply" icon_type="icon_browser" icon_library="iconsmind" icon_position="icon_top" content_alignment="content_center" custom_link="#" background_type="none" icon_iconsmind="iconsmind-Add-UserStar"][/tek_iconbox]
[tek_iconbox title="Gold Standard Qualifcation" title_size="small-title" box_content_type="simple_text" text_box="Become an elite educator" icon_type="icon_browser" icon_library="iconsmind" icon_position="icon_top" content_alignment="content_center" custom_link="#" background_type="none" icon_iconsmind="iconsmind-Medal-2″]Unlock[/tek_iconbox]
[tek_iconbox title="Fast-track Your Career" title_size="small-title" box_content_type="simple_text" text_box="Get ahead of the competition" icon_type="icon_browser" icon_library="iconsmind" icon_position="icon_top" content_alignment="content_center" custom_link="#" background_type="none" icon_iconsmind="iconsmind-Running"][/tek_iconbox]
[tek_iconbox title="Get Paid More" title_size="small-title" box_content_type="simple_text" text_box="You are likely to get a pay rise" icon_type="icon_browser" icon_library="iconsmind" icon_position="icon_top" content_alignment="content_center" custom_link="#" background_type="none" icon_iconsmind="iconsmind-Mail-Money"][/tek_iconbox]
[tek_iconbox title="Save Time" title_size="small-title" box_content_type="simple_text" text_box="Derby is the most time-efficient course" icon_type="icon_browser" icon_library="iconsmind" icon_position="icon_top" content_alignment="content_center" custom_link="#" background_type="none" icon_iconsmind="iconsmind-Timer-2″][/tek_iconbox]
[tek_iconbox title="Practical Application" title_size="small-title" box_content_type="simple_text" text_box="Apply it in the classroom" icon_type="icon_browser" icon_library="iconsmind" icon_position="icon_top" content_alignment="content_center" custom_link="#" background_type="none" icon_iconsmind="iconsmind-Teacher"][/tek_iconbox]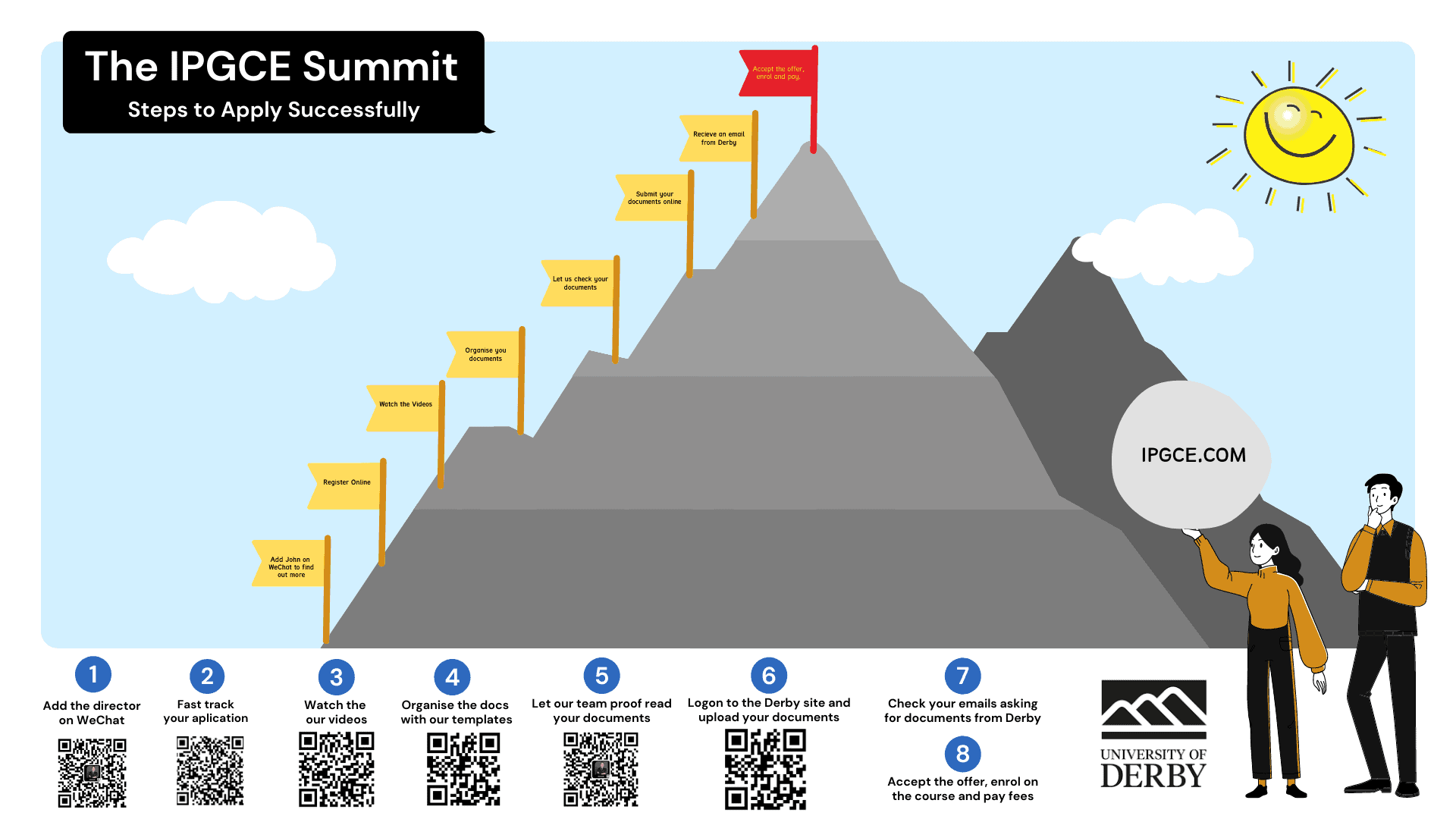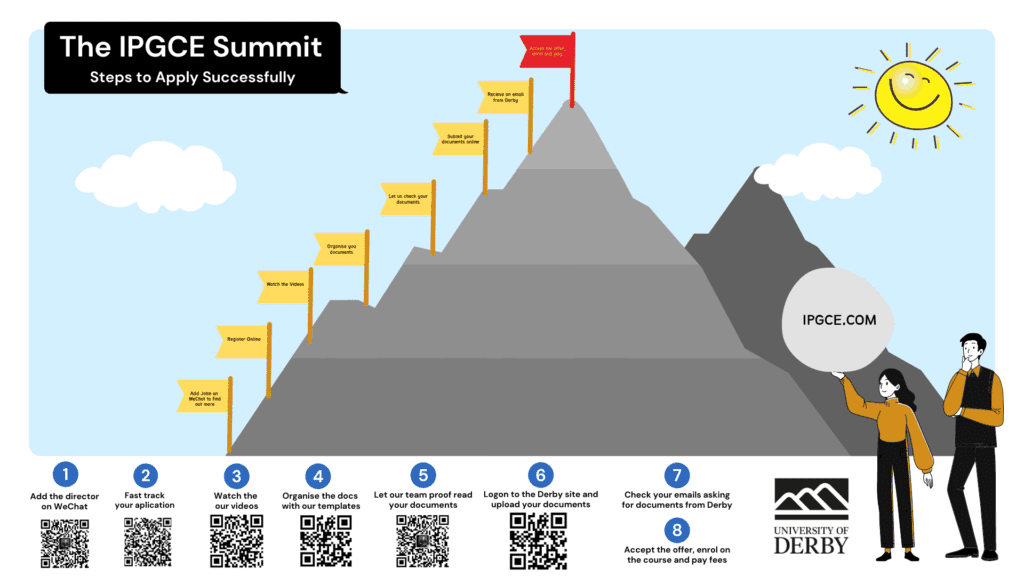 [tek_sectiontitle st_title="Derby IPGCE – Unsure about how to add your documents correctly?" st_title_tag="" st_subtitle_decoration="" st_separator_enable="separator_off" st_text_align="text-center" st_width="st_fullwidth"][tek_button button_text="Derby IPGCE – Apply Now" button_action="button-action-link" button_link="url:http%3A%2F%2Fwww.ipgce.com%2Fwp-content%2Fuploads%2F2022%2F01%2FDerby-Application-Guide.pdf" button_position="button-center"]

[tek_sectiontitle st_title="Once you have all of the documents prepared, click here to start the application." st_title_tag="" st_subtitle_decoration="" st_separator_enable="separator_off" st_text_align="text-center" st_width="st_fullwidth"][tek_button button_text="Apply Now" button_action="button-action-link" button_link="url:https%3A%2F%2Fregistration.derby.ac.uk%2Fpsp%2FHPRDOLA2%2FEMPLOYEE%2FSA%2Fh%2F%3Ftab%3DUD_OLA_COURSE_SELECTION%26PGR%3DMX1BN%26link_list%3D3443083″ button_position="button-center"]

Need to find out more? Click Here
To find out about the courses we have on offer: Click Here
Join the Course: Click Here